Wholesale Coconut Shell Charcoal Briquettes Factory
Manufacturer of High Quality Coconut Shell Charcoal Briquettes With Long Burning Time, Low Ash Content and Environmentally Friendly
Favocharcoal is a company in Indonesia that is engaged in providing various kinds of charcoal products. We're an experienced factory in the industry of charcoal that produces the best coconut charcoal briquettes for shisha and bbq charcoal briquettes for grilling use.
The charcoal briquettes we manufacture are odorless and smokeless, making them environmentally friendly. The charcoal briquettes we make have a long burning time, low ash content, and produce high heat, but they result in no sparks when burned. Moreover, we also provide natural hardwood charcoal from a different kinds of wood for barbecuing or industrial requirements.
We have strict quality control procedures during production to ensure the high quality of our charcoal. It started with collecting and selecting the best raw materials, followed by a well-managed manufacturing process and proper packaging before shipment. These entire manufacturing processes are designed to ensure that the commodity we make has the highest quality before it is shipped.
To assure customer satisfaction, our charcoal briquettes factory always strives to provide the best charcoal product with the support of our professional production team. Years of experience in the charcoal industry make us confident in fulfilling orders of charcoal products in bulk worldwide.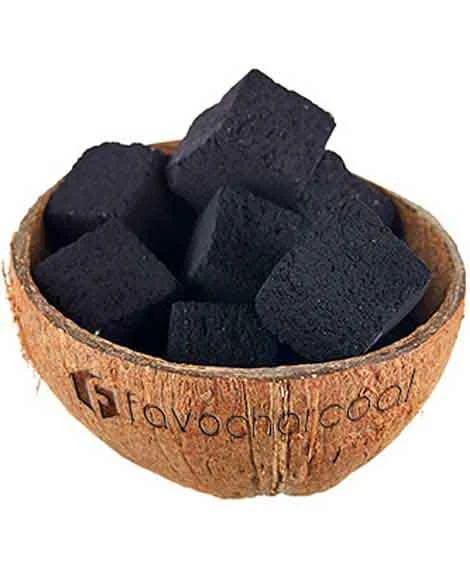 Coconut Charcoal Briquettes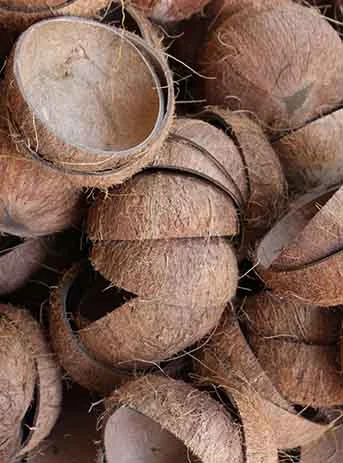 Finest Organic Material
The primary material we use is 100% natural coconut charcoal. The coconut shell charcoal is selected as it can burn longer than wood four times. The raw material is eco-friendly as it uses recycled coconut shells. This high-quality organic material is collected from Sulawesi and Java island.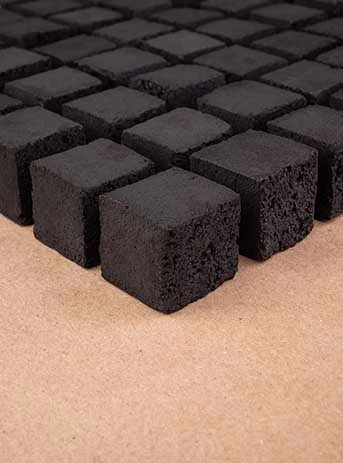 Precise Production Process
We have professional teams and trained workers to manage the production. Our factory supervises the manufacturing process carefully to acquire the best commodity. Moreover, Strict quality control before packaging the charcoal briquettes into the master box is a must.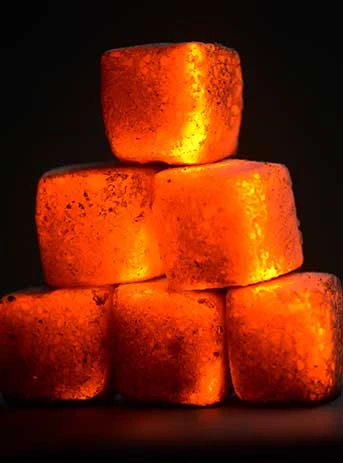 Excellence Quality and Safe
We produce the finest and guaranteed quality coconut charcoal briquettes. It has less ash, hours of burning time, and high heat but emits no spark. It is very good for shisha, hookah, and also for grilling usage as it is smokeless and odorless. Moreover, our charcoal has surpassed the laboratory test.
STANDARD
Standard Quality Specification
Volatile Matter - 18% Max

Caloric Value - 7500 Kcal
PREMIUM
Premium Quality Specification
Volatile Matter - 16% Max

Caloric Value - 7500 Kcal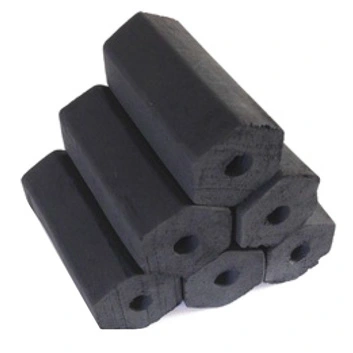 There are some advantages of using our BBQ charcoal briquettes to cook and burn the meat. Although they don't typically burn as fiercely as lump wood charcoal, our BBQ charcoal is tended to produce hot temperatures on the cooking surface.
The distinction is that BBQ charcoal briquettes burn at a more consistent and predictable temperature, and also have a longer period of burning time. This enables you to cook larger cuts of meat slowly and at a low-temperature control in your charcoal grill smoker on an outdoor cooking occasion. It is very suitable for barbecuing, restaurants, and Industrial requirements.
We make BBQ charcoal from hardwood, sawdust, or coconut shell combined with coal dust. Our BBQ charcoal briquettes have hexagonal shaped and can burn for up to 3.5 hours and produces at a minimum of 400 Celsius. It results in minimum ash, no spark, and is smokeless.
Sawdust Charcoal Briquettes
Sawdust Charcoal Briquettes, also known as sawdust charcoal, are a charcoal product that is made from sawdust. The wood sawdust and other biomass are first pressed into briquettes and then carbonized in a furnace kiln. Sawdust charcoal is formed when all of the gases and moisture from the sawdust briquettes are released during the carbonization process. Although the cost of sawdust is relatively high, it has a very high calorie and carbon content.
Our sawdust charcoal is made from hardwood sawdust that has been processed into sawdust briquettes and then carbonized in a furnace kiln for approximately seven days before cooling for seven days. This makes our sawdust charcoal high quality because it is very dry and contains high levels of carbon and calories. It produces high heat, has a long burning time, less ash, and has a consistent temperature when it burns.
Our sawdust charcoal products are commonly used for cooking, bbq requirements, firewood or home heating, and outdoor recreational use.
The sawdust charcoal burning time can be up to 5 hours. Our sawdust charcoal product has a hollow hexagonal shape with a 5 cm diameter and various lengths. Here are the sawdust product grades and specifications:
Sawdust Charcoal Specification
Sawdust Charcoal Grade
Grade A: up to 40 cm (good shape)

Grade B: 12 cm (good shape)

Grade C: up to 12 cm (a bit break)

Grade D: up to 5 cm (a bit break)
Natural Hardwood Charcoal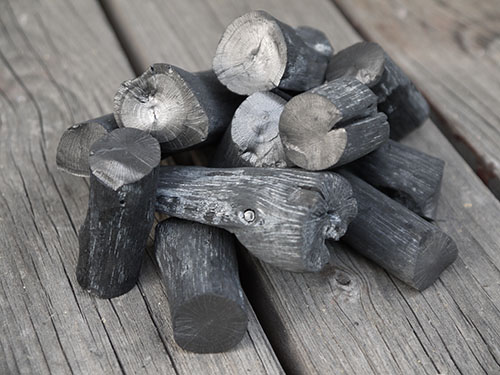 Also known as lump charcoal, our natural hardwood charcoal is made from specific wood such as rosewood, tamarind, halaban, and mangrove. Those woods type are best to be processed as charcoal material as they contain high calories which can burn longer, produce high heat temperature, and have a good smoke flavor.
As it is 100% natural, lump charcoal is very safe and suitable for cooking and BBQ use. Hardwood charcoals have clean burning, contain less ash, and also do not sparkle when it burns. The lump charcoals also light up quicker than the charcoal briquettes that make you barbecue your food faster and have an enjoyable grilling experience.
Moreover, we also provide binchotan charcoal or well known as white charcoal. White charcoal is tougher than normal black charcoal. The alkalized ashes of binchotan charcoal are supposed to neutralize protein acids and other unwanted acidic products while cooking. Binchotan charcoal can also use as a water purifier.
Whether you're curious about product, price, or more intense inquiry,  we're here to answer any questions.